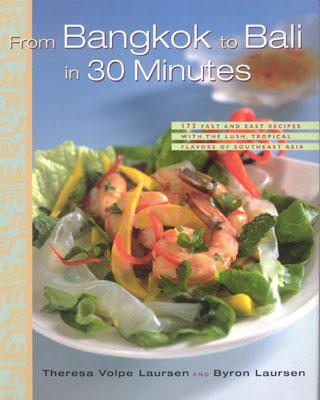 This vibrant cookbook was conceived and researched by my wonderful, remarkably talented wife, Theresa Volpe Laursen, who also designed and presented a symposium on Thai food and culture for the Smithsonian Institute while assembling the recipes of From Bangkok to Bali. In addition to some beautiful reviews, we were also honored with great comments from famous chefs. (please see below.)

How deep is the love that Southeast Asian people hold for their cuisine? Consider the people of Chuuk, a small island group in the vastness of the Pacific between the Asian mainland and Hawaii. Their ancestors arrived eons ago, probably from present-day Malaysia or Indonesia. When the people of Chuuk meet one another, very often the first thing they will say is "Have you eaten?" Next they will ask, "What kind of food did you eat?"
This greeting may be an incredible example of a cultural survival, and a testimony to how thoroughly Southeast Asians have always cared about food.
In present-day Singapore, when two people meet they often say "In chi bao le ma?", which means "Have you eaten yet?" And the same greeting is exchanged when Laotians meet. Laos is a more traditional country, the only tropical Asian nation with no seacoast, a place where old ways are likely to survive. Singapore, though, is one of the world's most cosmopolitan cities. It has been a hub of China-to-India trade for some two and a half centuries. Its people have taken in a huge number of foreign influences, including Chinese, Arabian, and Indian. And still that food-lovers' greeting, which is probably well over a thousand years old, remains a central feature of their social customs.
Sambal Savvy
People on the island of Java tell young girls that they will find a good husband if they know just two things – how to brew a good cup of coffee and how to mix up a fine sambal.
In both Indonesia and Malaysia, the art of cuisine rests on creating the right sambal for the dishes being served. There are many, many sambals, each used in quite a few different ways.
             Sambals essentially are pastes of fiery hot chillies and other ingredients, often including lime juice, shallots, and/or garlic, traditionally ground in stone mortars to create a moderately rough texture. They usually accompany blander items, such as rice. Many sambals are raw, but some are cooked. While they're typically presented as a dipping sauce or hot sauce, they may also be an ingredient in another recipe, often an even more complex sambal, or served alone.
             Sambal oelek, for example, is a simple paste of crushed red chillies with a splash of vinegar and a pinch of salt. It can be presented as a table condiment, or substituted for fresh chillies in a recipe, or used as the base for many sauces. With the addition of fresh lime juice, it becomes sambal jeruk, a condiment that's perfect for steamed fresh fish. If you also add lemon basil, you'll create sambal kemanji, often chosen to enliven a dish of steamed vegetables.
             Sambal ketjap, whose name was borrowed by Dutch traders for the table condiment we call ketchup, is a sweet-hot condiment for plain rice, fried tofu, and lamb sate. It blends chillies, limes, and kecap manis, Indonesia's sweet dark soy sauce.
             Sambal trassi is a classic all-purpose sambal made with shrimp paste, chillies, lime juice, and garlic. It goes with almost any Indonesian or Malaysian dish.
Pineapple sambal, made with red and green chillies, fresh pineapple, and a touch of rice vinegar, is usually paired with seafood. Sambal bajak, a chilli paste with tamarind and palm sugar, is the seasoning ingredient for terong bajak, a fiery stir-fry of eggplant and shrimp.
             Sambals that can be served as a dish include sambal udang, which we call Malay Chilli Shrimp (page 211), made with chillies, ginger, garlic, and macadamia nuts, which are cooked with coconut milk, lime juice, and palm sugar. Our simple Tomato Sambal (below) can be served as a condiment, and it can also be stir-fried with meat or seafood to make a main dish.
_______________________________________
PUBLISHERS WEEKLY
Those looking to expand their regional cooking repertoire will find much of what they need in these easy-to-follow recipes.
AMAZON REVIEWS
I've had this book but two days, and have made two meals. They came out flawless; amazingly so, given the simplicity and conciseness of the recipes.
I've made quite a few recipes from here with great success; the flavors are fresh, bright and bold, and many of the recipes are inherently healthy. Make sure you try their recipe for Saigon Cinnamon Ice Cream. It's foolproof and to die for.
This book is fantastic. It is practical and easy to use. It convinced me to make my first attempt at homemade Thai and it was contagious. Our friends now love Thai dishes.
I have a couple of racks of cookbooks. This is the best I've ever come across.
Best of all, these recipes really have the right flavors and balance that take me back to the some of the really good food I had on a trip to Bali.
I absolutely amaze my dinner guests with the recipes!
Exceptionally "kitchen cook friendly", From Bangkok To Bali In 30 Minutes is especially recommended for both its culinary diversity and ethnic meal-time authenticity.
MING TSAI
Having recently been to Bali, I sampled firsthand the pungent and exotic, yet simply presented, flavors of Southeast Asia. From Bangkok to Bali in 30 Minutes is a concise and easy way to bring these flavors to your own table.
JEAN-GEORGES VONERICHTEN
This book is a great compilation of recipes from one of my favorite regions of the world.
MARTIN YAN
This inspired work sets itself apart with its simplicity and elegant variety. The Laursens have distilled the essence of this complicated culinary region into very approachable, healthful, delicious, and quick everyday food.