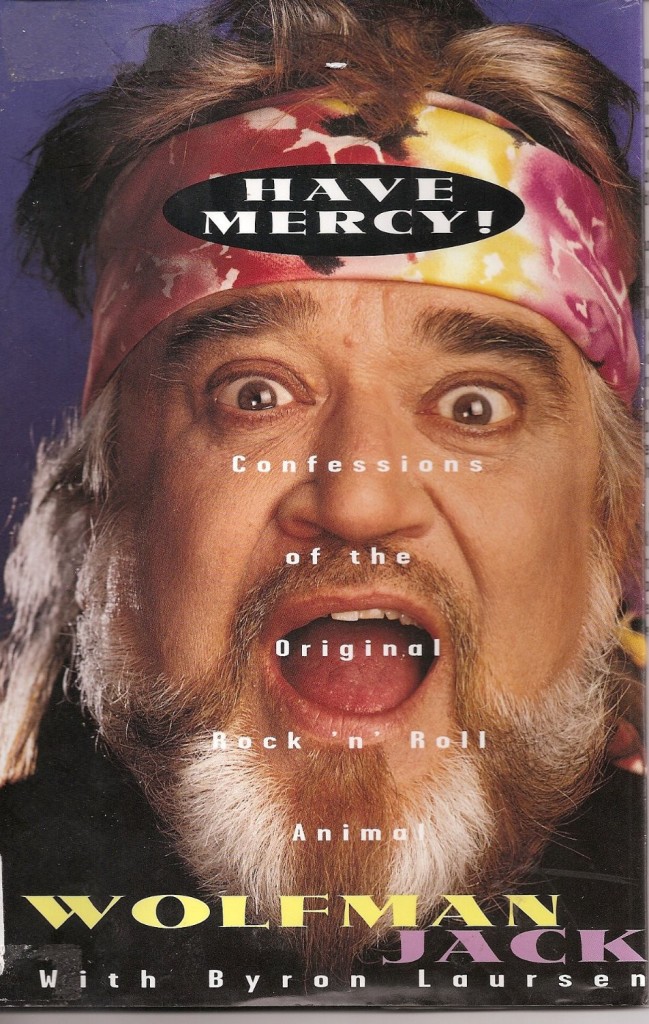 There will never be another Wolfman Jack. Part carney huckster, part hipster saint, going in several directions at once, including a few wrong ones. We had a very good time writing his memoir. When it was all over and he loved how it turned out, and it was on the way to a screen-rights deal with Dick Clark Productions, we became extremely close friends. He pledged to buy us a pair of Harley-Davidsons so we could take extensive road trips.
Sadly, the Wolfman left this planet right after doing nationwide publicity for the book. The movie didn't materialize (at least not yet). Never got those twin Harley Hogs. More poignantly, we never got an audio version of Have Mercy recorded. It would have been stellar. (However, I do have some private tapes of him reading the first chapter.) 
Fortunately, we still have on the printed page an excellent representation of his voice and truly one-of-a-kind personality. I'm very proud that I helped get it there. The segment below is an example of my ability to help a client get across something they feel profoundly, yet need help to fully express.
[Please check out comments from reviewers following the book segment]
Folks, I'm real nervous about getting this book right. I've ranted and raved, screamed, shouted, and even crooned at you all through microphones jacked into the pumped-up, megawatt transmitter towers of the world's biggest radio stations. I've danced, sung, and clowned in front of hundreds of nightclub and Vegas showroom crowds, and before the blissed-out faces of ocean-sized, bigger'n-Woodstock festival audiences. Not to mention my thousands of hours of sweaty, valuable experience in front of television and movie cameras.
But one thing that I'd never, ever done before, which has made me more scared than the most nervous virgin you ever met, was to sit down in a quiet place in front of blank paper and try to make sense out of my life.
A great musical pal of mine, a Texas rhythm and blues man by the name of Delbert McClinton, once wrote a song that said, "It ain't what you eat, but the way how you chew it."
Well, I ate up all kinds of wild experiences so far in this crazy life of mine. I've spent my time living for music and other sensual thrills, instead of doing the sensible things that everybody tells you you're supposed to do. Some of my experiences, I had to chew on for a long time before I knew what they were all about. But once I got started with the writing of it, I realized there could be only one name for this book.
"Have Mercy!" is something I've said more than a million times in my life, yelling it over the final notes of a classic rhythm and blues tune, whispering it under my breath at the first bite of a juicy T-bone steak, moaning it softly to my sweet Wolfwoman in a moment of bedroom ecstasy.
"Have Mercy!" It's a simple expression of amazement, and gratitude for all the stimulating satisfactions that come from being alive.
I've asked a lot of my old friends to help me recall the days gone by, when we all dipped into the electricity of the moment. When rhythm and blues music made its transition into rock 'n' roll, and rock 'n' roll into the music that suddenly shook up the whole world. Some of my old pals were a little worried: "I dunno, Wolf. It's been a long time, but they still might press charges, y'know?"
Thankfully, some of the many reprobates I've known were willing to open up their minds and their hearts and help me recall what a long, strange, and exhilarating trip it's been.
Even so, the story line may run into a patch of fog here and there. So please have a little mercy on me, 'cause I've tapped those old memory banks as deeply as I can. And I promise that some of the memories will amaze you.
Please don't misunderstand, though. I've always been good, as good as I can be, to the people around me. and I have a strong sense of religious faith. In fact, as you'll learn in the pages ahead, at one time in my life the proper way to address me was "The Right Reverend Bishop Wolfman Jack!" That's right! Right Reverend Bishop! You can almost see those blue and purple rays of heavenly light radiating from my countenance.
But, as far as certain of life's rules, regulations, and standards of conduct go, I'll admit that there have been times when I have done what I shouldn't have done.
Pretty soon in these pages you'll see me transporting marijuana from town to town for shady nightclub operators, and handling client connections for ladies who put bread on the table by laying booty on the mattress. And you'll see me generally going overboard in a number of foolish ways, including the pursuit of business opportunities in a slightly slicker way than the law allows.
When the curtain is lifted on these dark deeds, please have a little mercy on me, and try not to pass judgment until you've taken in the whole picture.
But there's an even more important reason for the name of this book.
"Have mercy!" is a phrase I picked up on a long time ago. I first heard it spoken by the inspirational people who played black and black-styled music on the radio. I'm a guy who was born white, but soon got captivated heart and soul by black American culture. That culture, especially the musical and verbal sides of it, has made all the difference in my life. "Have mercy!" stands for the vibrancy and all-out expressiveness of African-American culture: how it points people toward the happy-go-lucky, good-times side of life; how it creates music that is sexy, funny, crazy, and wise all at the same time; how that music has the power to even make you feel good about feeling bad.
At first, I was just another one among the countless legions of white kids who got amazed and irreversibly bopped on the head by the provocative, pulsating, and wonderful music that African-American culture has given us all. The deep and ultimately joyous sounds of Ray Charles, Billy Eckstine, Ike and Tina Turner, "Good Rockin'" Roy Brown, Wynonie Harris, Big Joe Turner, Freddie King, Sister Rosetta Tharpe, Otis Redding, Roscoe Gordon, Fenton Robinson, Louis Armstrong, Louis Jordan, B.B. King, Chuck Berry, Muddy Waters …the list goes on forever. I keyed in to their art, drew pleasure from it, and used it in my attempts to find a cool world to live in, away from the morose hang-ups of "real life." Because in my philosophy, nothing is more unreal than being unhappy.
Eventually, that great music wasn't just something I used, it was something I merged with and ever served a little bit, by introducing lots of dark-skinned artists to millions of pale-skinned listeners via some of the most powerful radio stations that ever sent signals around Planet Earth.
Of course, I didn't perform that service because I'm a noble guy, or even a crusader. I did it because the music got me so excited, and I knew that kind of excitement could rock the radio just as powerfully as it resonated in my own soul.
As one result, some great black artists got a little further into the mainstream than they might've, maybe a little sooner than they might've.
As another result, their music lifted me from beyond being a bummed-out little teenage boy named Bob Smith who was going through nasty times in Brooklyn, to a fresh incarnation known as Wolfman Jack, who has known happy times in several corners of the world.
The one thing I've learned, getting out to all those foreign and domestic locales, is that people in every country of the so-called "civilized" world wish, either secretly or openly, that they had the expressiveness, the flair, the I'm-so-glad-to-be-me spirit that black folks have made a part of American life.
I stood in a club one hot summer night in a faraway land, several years back, watching a crowd of local teenagers tearing it up. They were all doing their best boogaloo while a DJ played Motown sides nonstop. The dancing looked pretty good at first. But if you watched for just a few minutes, you realized that those dancers were repeating precisely the same steps over and over again. Those kids had studied American Bandstand and Soul Train programs like they were Sacred Scripture. They had copied the form to perfection. But they couldn't capture the spirit. They were dying to have soul.
And they're not the only ones.
The whole world is dying to have soul.
If there's any one thing I can promise that you'll get out of reading this book, besides my backstage glimpses of famous people, tales of funny goings-on, and insights into the interwoven histories of radio and rock 'n' roll, it's the straight truth about how to have soul.
All right, baby. Now let's get the story rolling.
_________________________________
KIRKUS REVIEWS
Reads like a collaboration between Mark Twain and Sergio Leone . . .
The memoir (written with co-author Laursen) provides many entertaining accounts . . .Wolfman Jack makes a droll, infectiously enthusiastic raconteur of his own strange career.
LOS ANGELES TIMES
Chapters 7 and 8 of his book, which describe how he put himself on the air as Wolfman Jack in 1963, suggest a white-hot rock & roll epic that draws on elements of "The Buddy Holly Story," "The Wild Bunch," and "Barbarians at the Gate."
Wolfman Jack set himself a lofty goal; he vowed to tell it like it really is, an oft-quoted but seldom-realized credo of rock & roll. Happily, if amazingly, Wolfman Jack succeeded in getting it right, and just in time.
NEW YORK TIMES
With his collaborator, Byron Laursen, Wolfman Jack records the vicissitudes of a life in pop music with gusto and soul; even as an author the Wolfman is "a happy-go-lucky cat, real hip, who just wanted to make people feel real good, feel nice and sexy and alive."
PUBLISHERS WEEKLY
Writing with Laursen (Show Time), Wolfman('s). . . fast-paced story is peppered with generous tributes to the musicians  —  Chuck Berry, Ray Charles, Elvis Presley and a slew of others  —  who "supplied the original heart of rock 'n' roll." Rock music fans will find inspiration.
ENTERTAINMENT WEEKLY
Full of extraordinary showbiz tales, the book is a wide-open door into the heart and soul of the most interesting and lovable rock & roll animal on the planet.  (rating) A
BOOKLIST         …A highly entertaining peer to the finest recent rock autobiographies.
AMAZON READER REVIEWS
What a unique person. What a great life and book. A wonderful addition to any rock library.
A wild ride through an important era of broadcast history. It captures the renegade spirit that led a few pirates and pioneers to take risks for entertainment's sake. It does a superb job of describing the times. Have Mercy! is a roller coaster without seatbelts. I walked away exhausted from a really wild journey.
What a book! It will make a great movie.
The spirit of Wolfman Jack lives on in this book. He always took it to the edge. He makes you want to hear more.
Should be required reading for anyone in radio today! I never got to hear the Wolfman on the air, but because of this book I consider myself one of his biggest fans.
This is Rock and Roll at its best.