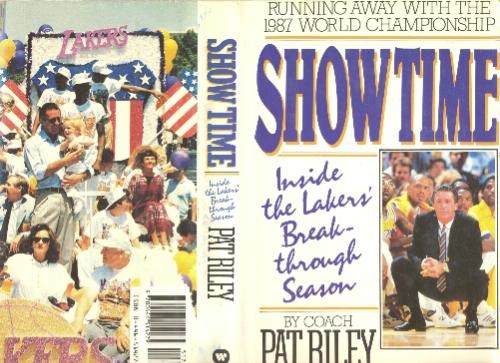 This is my first book, written after my apprenticeship as a magazine editor in chief. And I got hit by the lucky bus, being chosen by Hall-of-Fame coach Pat Riley to write a memoir of one particularly high-charged year when he was in charge of the incredible Showtime Lakers, the Magic Johnson-led group that Sports Illustrated called "The Team of the Century." It was a wonderful ride for me, with a Press Pass to all Lakers games, plenty of face time with Magic, Kareem, (current Lakers coach) Byron Scott, Michael Cooper, Kurt Rambis. James Worthy, Mychal Thompson and all their sidekicks, and enough time at Pat's beautiful homestead to get accepted there as family. After a review came in that said Pat came off "…like a literary lion in GQ clothes," and after best-seller status was secured and publisher's bonuses paid out, I found a bottle of Riley-arranged champagne waiting for my wife and me the next time we visited a favorite restaurant.
           But it was almost as much a thrill when Pat's closest friend told me that a certain passage in the book moved him to tears because it revealed so much Riley's essence. It happened to be a passage I'd entirely invented as a means of linking parts of Pat's story together.In other words, I had his voice. This is the prize I go for in every collaboration.

            Here are two of my favorite parts of that book, and of the breakthrough season it describes. First is a pivotal moment in that year's NBA Finals. Second is a bittersweet post-championship moment when Pat and Magic (known to his closest friends as "Buck") happened to meet on a Bahamas resort beach.
Boston all of a sudden looked like the masters of the situation. They were penetrating on drives and working over our low post defenders. They were moving the ball fluidly. We looked frustrated and inefficient. Our anticipation had gone up too many notches. We were hyper, playing past the level of control. We started taking quick shots, trying to crack the game instead of patiently working our offense and defense. Coop couldn't hit. Earvin couldn't hit. Mychal and Kareem kept us in the game, but the Celtics held a 32-25 margin at the end of the first quarter.
The second quarter looked the same. We pulled closer on Kareem's and Worthy's scoring, but the guards couldn't catch fire. Our passing was badly timed. Larry Bird single-handedly derailed a four-on-two fast break because we didn't spread out the attack with smart ball movement. Three minutes later, Bird stole the ball from Cooper and started a three-on-one. Kareem blocked it all alone, but he drew his third foul. …It was 56-51 at the half. I thought it was a blessing to be that close.
At halftime, Coop and Earvin were sitting side by side in the locker room. Earvin asked him, "Hey, are you rushing?"
Coop said, "Yeah. Are you?"
"Yeah. I'm rushing too."
I didn't show any video footage. I didn't put any X's and O's on the blackboard. I just wrote: Defense, Control, Execution, Shot Selection. It's our day. I said, "We want this so much that we're playing beyond ourselves. All we have to do is get back to playing our game. We're going to win it or lose it in the first three minutes of the third period."
I wanted to make them focus strictly on the present moment. I didn't want them to think about letting it get down to the wire.
Somehow, we entered the third period unbelievably ready and Boston came out flat. It was still hard to score. Earvin finished a drive with a little three-foot scoop shot. Score: 56-53. Then we traded possessions without making baskets. There were a lot of great effort plays that didn't accomplish much. Our defense was tough, but somehow the shots on the other end eluded us. A.C. missed a driving layup by forcing too hard, but he put in a pair of free throws. I kept thinking, "We're not going to get any better opportunity than this."
At a minute and forty-five seconds into the period, Kareem was called for his fourth foul. I had to bring him off the floor — the guy who had done the most to keep us competitive.
Something great happened. With Kareem on the bench, the rest of the guys knew that they had to settle down, pull together, and play great defense. Otherwise we were dead.
DJ set up on the right side of the key to pass to McHale in the low post. Byron Scott shifted over for a double team, which meant that James had to come over too. But playing possum a little, he just came partway over. He let McHale and DJ have a clear line of sight to each other.
DJ made the pass into the low post and we double-teamed McHale. On McHale's pass back to DJ on the perimeter, James made a lunge for the ball, catching it with his fingertips. He deflected the ball at a slight backward angle toward the sideline, out of bounds. Instead of watching it go on out, he raced over. Earvin saw him go. He started loping downcourt, toward our basket. He wasn't sure James could make it, but he had to take the chance.
James was on the outer edge of control, but he knew he could reach that ball. He had to launch himself face first to make it happen. At the moment his left hand made contact, he looked like a sprinter blasting out of the starting blocks. Then Earvin saw James twist his neck to look for a teammate downcourt. That was the confirmation. James was flattened out in midair, full extension thrust. His left hand smacked the ball sideways, angling toward Earvin and toward our basket.
Earvin had to slow his stride a half step. He gathered the ball in. As he did, James made a half turn in the air. He landed full length on the hardwood on his back. His momentum created a slide about two body lengths long. At the end of it, he had regained enough control to sit halfway up, twist his neck, and take a look. He saw Earvin stuffing the ball in the hole. Score: 57-56, our first lead since the opening minutes.
Worthy's dive was the play of the year. It was the classic tenet of Laker basketball once again — our defense igniting our offense, a stick of dynamite in a logjam. Half a minute later he scored a dunk off a fast break. Earvin connected on a 20-footer from the left. James stuffed off an assist from Earvin. Byron surprised them with an 18-footer. A.C. tipped in one of his own missed shots. Mychal got rebounds in bunches. One of them he put back for a score. James, the silent one all season long, was yelling encouragement, calling for the ball in the post, carrying on like a frontline soldier in a holy war.
In about seven and a half minutes we ran up an 18 to 2 barrage. We forced four Celtic turnovers and only committed one. By the end of the period our lead was 81-68. The Celtics got only 12 points, one of the lowest scoring quarters in playoff history. We put in 30. Our defense went from tough to successful.
Earvin, A.C., Byron, Mychal, and Coop started the fourth period. Usually, when we're blowing a team out, Kareem stays on the bench. This time he tapped me on the  shoulder and said, "Who do I take?"
Kareem wanted another piece of the action. Forty years old. The guy who was supposed to be over the hill and dragging the team down with him.
I could hear the announcer giving individual scoring figures as I made for the tunnel. Each name set off a big roar. "Kurt Rambis — one. A.C. Green — six. Michael Cooper — six. Byron Scott — eight. Mychal Thompson — fifteen. Magic Johnson — sixteen. James Worthy — twenty two. And the Captain. Kareem Abdul-Jabbar. Thirty-two points!
Kareem and the other starters were up on a wooden platform, getting ready for presentation of the championship trophy.
Then all the people watching on television saw something that I don't think has ever been seen before. The wives of the players and coaches came in to share the moment: Linda Rambis, Wanda Cooper, Angela Worthy, Pam Matthews, Solveig Bertka, Anita Scott. Up there on that platform with their husbands were the women who kept everything together through the constant road trips, the constant practices, and the emotional ups and downs in this nomadic warrior NBA life. They deserved the joy. Chris Riley was there, too. As she always is for me.
The thing about winning the title is that it takes so long. You have to climb a mountain to get there. When you win it's instantaneous euphoria. The scene on the court, with all our fans pouring onto the floor, seemed like fifteen seconds. The two hours in the locker room seemed like a few minutes. After that, it's afterglow, total satisfaction.
The greatest memory is our team party. This is what we do, every time we win a championship. There's no other party that can ever compare. Our victory parties are celebration in the purest sense of the word. We celebrate each other. everyone is a star, everyone gets the message that they are loved.
We met at On The Rocks, a small private club on Sunset Strip. There was no one there except people from the inner circle. Players, their families, the publicity staff, managers, coaches, all the people who keep the Laker machinery turning.
Everyone was dancing. Chris danced with Coop while I danced with Wanda. Then we'd split up and draw other people onto the floor. Earvin became the center of the fun, just as he does on a basketball court. He had a song played over and over again. Then he would call one person at a time, calling out names to the rhythm of the music. Each person came into the center. They each had to dance alone, improvising, while everyone formed a circle around them. I never saw James so loose and relaxed in the five years I've known him. All his intense, serious demeanor was lifted off like a veil. Everyone applauded him like crazy when his turn came to dance in the center. It was the ultimate acknowledgment: He had arrived as a leader and as a player.
&&&&&&&&&&&&
Matthew came down with one last tray of drinks. He said, "Forget about the chairs. I'll get 'em tomorrow." We looked around. There was nobody else left on the beach. The sun was low on the water. Matthew and his partner had already stashed every bit of cabana equipment except the chairs we were using. Chris had left to get herself ready for dinner.
I said, "Buck, this is where we're always going to be. If you want to come walking down this way, we're going to be propped up here. Just being lazy, enjoying the moment. So don't ever feel like you're infringing. It's wide open."
He said, "Okay, Riles." He straightened up and rolled one shoulder back and then the other, loosening up. He gave me a smile. Then he said good-bye and sauntered down the beach toward his hotel.
I started picking up our towels and our books and our cassettes. I looked around. Earvin was thirty or forty yards away, getting to be farther in the distance. I looked down to the cabana, fifty yards away in the opposite direction, and I wondered whether I should lug the chairs down. Then I thought, "Nobody's going to steal 'em here." The sun was just on top of the water. The sky was orange and the water wasn't green anymore but steel gray. The beach sand was rose colored, the Moorish roofs of the villas had a pink blush. And there was this one guy walking away from me with a gray T-shirt that was flopping with the breeze.
I got a shudder. I thought, "You know, one day he's going to be gone forever. He's gonna walk right out of my life, and the Lakers' lives, and the fan's lives. And that's gonna be it."
The same thing happened when Jerry West told me he was quitting the game. We had played together for five years. I always used to say I lived on parasitic value: I knew how to complement and support the play of the best guard in the NBA. We had just gotten beat by the Milwaukee Bucks, eliminated in the first round of playoff competition on April 7th, 1974. It was two years after achieving a championship on the winningest team in league history. Jerry had a muscle tear that would never get better. Nowadays, Vitti could probably fix it without a problem, but sports medicine was fairly primitive then. Jerry was soaping up in the shower when he turned to me and said, "This is my last game." Jerry didn't want any big deal made over him. He doesn't enjoy the limelight. He was the greatest guard that the game had known, a complex personality and a loyal friend. When we won this championship, he came into the locker room, had a sip of champagne, shook a few hands, and left. I've never been around anyone who wanted to win more than him.
Watching Earvin go down the beach gave me that same mixture of feelings. It was part insecurity, wondering if I could ever be as successful without his presence, and part wondering if the simple pleasure that we experience with each other, the sensations of thinking the same thoughts at the same time, could ever happen again.
Just after we finished with Boston, Kareem, Jerry West and Jerry Buss came to terms on a contract extension. The greatest player in basketball history would be with us two more years. Then I'd see him walk away, too. Earvin walked farther down the beach and sun went into the Atlantic Ocean and that was it.
I picked up my stuff and walked up the hill, looking for the path to our rooms. All of a sudden the hill looked just like any hill, anywhere. My focus was sharp. I saw the weeds and the sticks and the dirt, things that I hadn't noticed for hours. When I got to the top of the hill, I looked one more time and he was gone.
I felt alone.
______________________________________
KIRKUS REVIEWS
     Inspiring …It is refreshing to read a sports book in which the (male) players unabashedly reveal vulnerability and soul. A dramatic, engaging book that cogently explains the success of one of modern America's great sports franchises.
JOE SMITH, former president and CEO, Capitol EMI
            An amazing, in-the-trenches experience for all sports fans, and NBA junkies especially.
BOSTON GLOBE
           Even diehard Celtics fans might find inspiration here.
AMAZON REVIEWS
            We get to see how an NBA season unfolds from the point of view of arguably the best coach in history. Mr. Riley has a wry sense of humor and his take on things makes this book a highly entertaining and insightful read.
This book has application beyond sports, as it discusses principles that can be applied in the business world.
This book would be appreciated by anyone, regardless of rooting preference, who is interested in the history of the league.
This is my most recommended book on the art of Management. How do you manage such a diverse group of world class athletes! Pat Riley's book is a clear set of instructions on how to manage a small group of high-powered folks – like a high-powered software team. This belongs well dog-eared on the shelves of business managers.
Pat spends time talking about how his coaches prep for upcoming games and gives great motivational speeches describing in exact detail what mindset he wants his guys in. Loved every minute of it and, speaking as a Lakers fan, it is very respectful and a detailed look at a championship organization.
Pat Riley is such an effective communicator. In this book, there are great examples of what it takes to reach the top of any profession, and find success in life.
I would highly recommend for anyone to obtain a copy of this book. It is a collector's item that I will forever treasure.