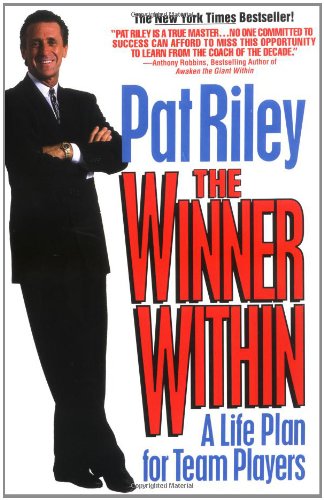 My second collaboration with Riles (a.k.a. Pat Riley) became the #15 nonfiction bestseller of the entire year. Even before that milestone, Pat gave me a tall compliment: "Byron Laursen, whom I met in 1987 and who worked diligently with me on my first book, Show Time, was a crucial partner in getting this book written. Byron knew me, the Lakers, my voice, and my viewpoints. He gave me tremendous support, and his work in building the foundation of this book was essential. Many thanks to a true Showtime Warrior."
The Winner Within is Pat's memoir of intensely teamwork-related aspects in each of his years as a head coach, coupled with parallel stories from many walks of life, intended to help people get the most out of every single one of the many teams – whether work, family, sports, or other teams – in their lives.
            Here's a sample passage. Please also see the review excerpts posted below.

Every now and then you have your back pushed up against a wall. That proverbial wall. Yes, it's real. It seems like there's nobody you can depend on but yourself. That's how the Lakers felt about facing this showdown. If we lost, the Choke reputation would be chiseled into stone, a permanent verdict. If we won, we had the opportunity to prove that we could keep on winning. We weren't facing machine-gun fire, but, by warrior/athlete standards, it was a do-or-die situation.
I faced Kareem directly and said "I've known you since we played against each other in high school. When I saw you and your father on the bus today, it made me realize what this whole moment is about. You spent a lot of time with Big Al today. Maybe you needed that voice. Maybe each and every one of us in this room needs to hear that kind of a voice right now, the voice of your dad, the voice of a teacher, the voice of somebody in the past who was there when you didn't think you could get the job done.
"I know there's a lot of you in here who probably don't think you can win today. A lot of you don't think you can beat the Celtics. And it's been proven. The record is undeniable.
"I want each and every one of you to close your eyes. Just sit back and listen." And they did. I had their total, undivided attention.
I started to talk about my own past and my father. When I was nine years old, my dad told my brothers, Lee and Lenny, to take me down to Lincoln Heights and to get me involved in the basketball games. They would throw me into a game and I would get pushed, shoved, and beat up. Day after day, I ran home crying and hid in the garage. I didn't want anything to do with basketball.
This went on for two or three weeks. One night I didn't come to the dinner table, so my dad got up and walked out to the garage, where he found me hunkered down in a corner. He picked me up, put his arm around me, dusted me off, and the he walked me into the kitchen. My brother Lee was upset with him. "Why do you make us take him down there? He doesn't want to play. He's too young."
My father stood up and, staring at Lee, said, "I want you to take him down there because I want you to teach him not to be afraid. That there should be no fear. Teach him that competition brings out the very best and the very worst in us. Right now it's bringing out the worst, but if he sticks with it, it's going to bring out the best." He then looked at his nine-year-old, teary-eyed son and said, "Pat, you have to go back there."
And I told the players "I thought I was never going to be able to get over being hurt and afraid, but I eventually did get over it. And before too long I was sending other kids home to their garages to lick their wounds. That's what the Celtics and Boston Garden are offering up today."
I told them of a time I saw my father in 1970. It was at my wedding. He and my mom were leaving the reception and we were about to start our honeymoon. He and I had been talking all day about my career. I had just been cut by the San Diego Rockets. The Portland Trailblazers, another expansion club, had invited me and twenty-nine other players up to their training camp. That looked like my last shot. I was $5,000 in debt, and I was about to take on the responsibilities of marriage. It was a great day. But I needed his voice.
As his car was driving at me, my father yelled at me, "Pat!" His arm came out first, gesturing, then his head. I began to chase after the slow-moving car to hear. "Just remember what I taught you. There will come a time. And when that time comes, you go out there and kick somebody's ass. This is that time, Pat."
Every now and then there comes a day where someplace, sometime, you simply have to plant your feet, stand firm and make a point about who you are and what you believe in.
I told them that I did not realize as the car pulled away that those were the last words I would hear my father say. He died soon afterward. It was his message that I gave the Lakers that day. It was inspired by Kareem Abdul-Jabbar and his father and how they connected with each other.
As I was relating this moment, I was slowly pacing back and forth and staring at the ceiling, locked into the image of my father's face. When I looked back at the players, Cooper was crying. A couple of others looked like they were about to start.
"I don't know what it's going to take for us to win tonight," I said. "But I do believe that we're going to go out there like warriors and that would make our fathers proud."
We went out and won the game, 109-102, which sounds close, but it was really no contest. Through its entire course, I never had any fears about losing. Any time the Celtics tried to assert themselves, Kareem was right there: thirty-seven points, nineteen rebounds, six blocked shots. A brilliant performance, a complete reversal, a 100 percent return to his best form. After the game, when reporters came around, Kareem got in the last word: "Contrary to public opinion, the demise of Kareem Abdul-Jabbar was greatly exaggerated."
We won three of the next four games, and the 1985 championship became ours. Seven times in Laker history the NBA Finals had been lost to those adversaries. Now the Celtic Myth was slain and the choke image along with it.
During the off-season, Michael Cooper told me that the pre-game message had gone so deep for him that the score was already five to nothing before the game started. For those of you who don't know, Cooper had a grievous leg wound as a little boy, and ugly cut through muscle tissue. Doctors didn't think he'd ever walk right again, let alone become an athlete. He was sustained through those times by a wonderful mother and devoted uncles. So he heard voices from his most profound inner reaches.
All of us have at least one great voice deep inside. People are products of their environments. A lucky few are born into situations in which positive messages abound. Others grow up hearing to many messages of fear and failure, which they must block out, so the positive can be heard. But the positive and courageous voice will always emerge, somewhere, sometime, for all of us. Listen for it, and your Breakthroughs will come.
When your back is against the wall, what inner voices will remind you that you've faced down fear before? Whether on a playground, a parquet floor, in a boardroom or on a battlefield: who is the Voice Within who can remind you that courage is your birthright?
__________________________________
NEW YORK TIMES        Pat Riley's success has created a challenge for every other coach and manager. Call it the Riley Standard.
FORTUNE           …Should give any team leader a renewed feeling of confidence, sort of like sinking a three-pointer at the buzzer.
KIRKUS REVIEWS         The writer and coach maintain an impressive sense of proportion, to be seen in vignettes of a family friend who survived a racking bout with breast cancer; the combat vet responsible for getting the Vietnam Memorial in Washington, D.C., built; his father-in-law (a WWII submariner); and others whose triumphs have little to do with athletic glory. Engaging, down-to-earth advisories from a master of the game.
PUBLISHERS WEEKLY        A superb, candid study. Vivid examples of how the "winner within" each of us can adapt his ideas to all types of team play.
DENNIS WAITLEY, PhD.       Pat Riley stands as the finest role model and mentor to bring out the best in each of us, from within. How good is his book? It's the slam-dunk of the decade.
AMAZON READER REVIEWS
Simply put, I had zero State Championships before reading it and I have had six State Championships since reading and applying Pat Riley's philosophy. If you are in business and you have not read this book you are losing money. If you are a coach and you have not read this book you are not winning as many games as you could.
Read this book with a highlighter handy. You will want to identify sections, quotes, and sayings that you will use in the future. This is one of my all-time favorite business books.
Excellently written, with real life examples all the way, it is invaluable. I have recommended this book not only to my office but to our training company that helps with team building.
This book will help you develop the habit of winning in your life.
This book allows one to feel honor in teamwork, and shows us how personally rewarding the dynamics of being on a great team can be. Excellent!
This motivational book was the best I have ever read.