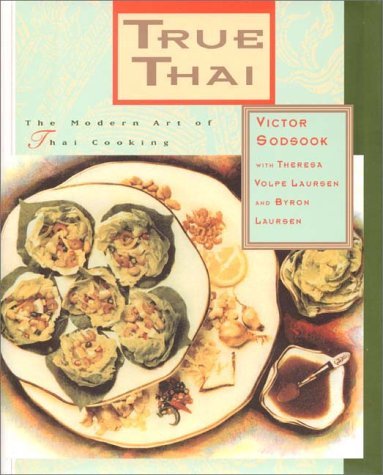 In addition to being nominated for a James Beard Foundation Award, True Thai was picked by Martha Stewart LIVING as "one of the best books to get or give for the holidays." One of my challenges in True Thai was creating a credible American voice for a Thai-born chef who, though quite brilliant, had a hard time expressing himself in our language. He was very happy with the results, and the book was featured in Cookbook of the Month club advertisements for over five years. It continues to find new fans. My wife, Theresa, and I continue to teach Thai cooking to enthusiastic groups. Many other chefs who teach Thai cooking require their students to read our book.
Below this excerpt you'll find comments from reviewers.
I've lived and worked in America for more than twenty years, a little bit more than half of my life. During that time, a handful of good Thai cookbooks for Americans have been published, most rather recently, as the popularity of Thai cuisine has spread from the great cities to the small towns of America. But I was spurred to write a book that would impart a sense of how Thai culture and cuisine have evolved together, each nourishing the other, one that would provide both those recipes Americans have come to know through visits to Thai restaurants and cafes, and those that have not yet made it to these shores but are deeply loved and an essential part of the cuisine as it's enjoyed in Thailand. At the same time, I felt Thai cuisine could be made much easier to understand, and to produce in American home kitchens, without sacrificing the flavors, textures, and colors that make it so characteristically Thai.
In keeping with modernism, and the constant evolution of Thai food, I've supplied a chapter entitled "Cooking with a Thai Accent." It shows how to take the knowledge you've gained from this book and use it in new ways, creating your own dishes. The terrific Thai-American recipes in this chapter were evolved by my co-authors, Byron and Theresa Volpe Laursen, as they applied what I had taught them to their own American and Italo-American cooking traditions.
Before long, you'll be evolving your own recipes too.
This, then, is the book I've always wanted on the kitchen shelves of Americans who love Thai food. I've been watching you since I was a very young man, seeing what thrilled you about Thai cuisine and sensing how many more things you might eventually come to love, if given the right introduction. I think you're ready for a complete picture, including an understanding of the culture that invented Thai food, and of how to make this very exciting, pleasurable, healthful way of cooking a part of your life.
_____________________________________
AMAZON REVIEWS
Now all the food that I long for and remember while living in Thailand can be enjoyed every day. This is the required textbook for my Thai cooking class.
I have read and used it at length for years, learning something new about the food and culture every time.
My favorite cookbook. It's simply amazing.
This is the Thai cookbook you want. Having traveled and eaten all over Thailand, this book has enabled me to replicate those amazing dishes with the layers of flavor unique to that beautiful land. If you want to cook real Thai, this is the book.
I love Thai food and have eaten at a lot of Thai restaurants in the L.A. area, and let me tell you, this book is right on the money.